Arizona's Premier Playset &
Swing Set Dealer
The Excitement of the Neighborhood
Playground
in the Safety of your

own backyard
Delight and entertain your family, friends, and neighbors with top-quality backyard playground equipment.
Why All About Play? We transform your backyard into a paradise

of play
When you get backyard playground equipment from All About Play, you're getting more than just awesome playsets, basketball goals, and trampolines:
Safety & Care
As a Mesa playground retailer, we strive to provide the safest playsets on the market!
Quality
Every high quality playground is made with the best materials for durable, long lasting play!
Expertise
Our expert Mesa playground suppliers can help you find the right playset for your family!
Showroom
Visit our Mesa playground showroom to get a first hand look at our top quality brands!
Free Delivery & Assembly Phoenix Metro
Locally Owned & Operated
Delivery Throughout Arizona
Lifetime Product Warranty
Top Quality & Top Brands
Friendly Knowledgeable Staff
Price Match Guarantee*
Interest Free Financing Available
Outback Series
Check out our durable, top rated Outback Series players at our Mesa playground showroom!
Playhouse Series
The Playhouse series is an affordable playground that offers hours of endless fun!
Megaset
All About Play's Megaset is an super sized, built to last playset that is both strong and durable!
Space Savers
Our playground equipment retailer in Arizona provides a wide range of space saving playgrounds to fit your backyard!
Safari Series
The Safari series is the perfect solution to give you kids the fun and adventure they're looking for!
"Great customer service, and I would highly recommend them."
I wanted a playset for my kids but had trouble finding a local company to inspect the site and assemble the playset at my house. My yard is on an incline, and I wanted someone to confirm we could install it. Luckily, I found All About Play. They came to my home, confirmed we could set it up, and took care of the rest! They have great customer service, and I would highly recommend them.
Kash N
★★★★★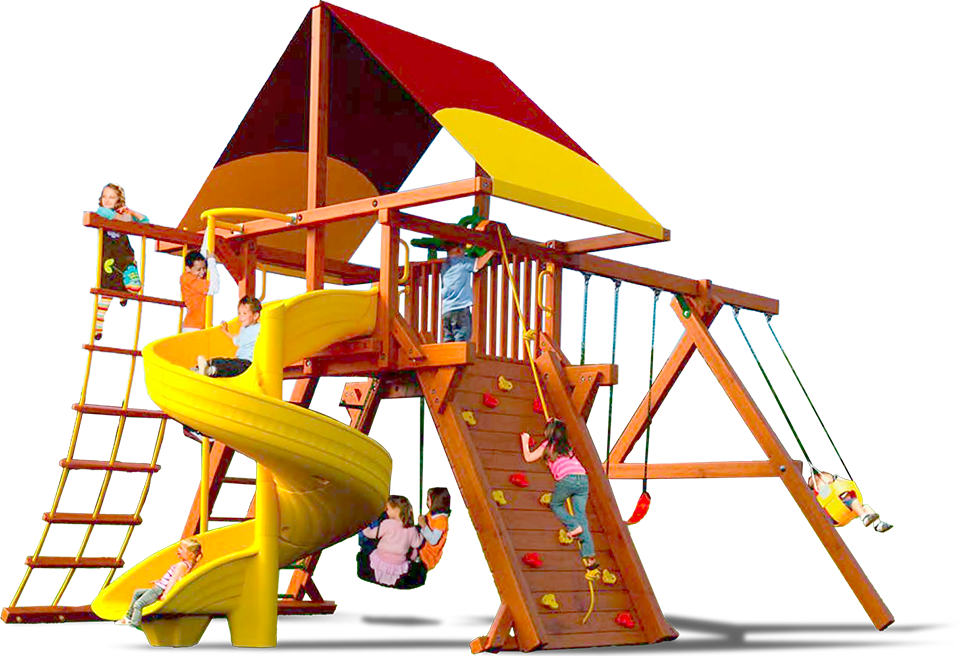 As Arizona's premier playset and backyard play equipment dealer, All About Play gives you more of what you're
looking for.
Have confidence in the value and longevity of every playset, basketball goal, or trampoline we sell, deliver, and assemble.

Keep your children safe and protected by putting the neighborhood playground in your own backyard.

Know that you have local pros at your side to guide you, and that our products come with lifetime warranties because we care.

Find the perfect piece of equipment with help from our knowledgeable, friendly team. Schedule a visit to our showroom in Mesa.
Cedar

construction THE AMAZING ADVANTAGES of

CEDAR PLAYSETS

The lumber used in our playsets offers many great advantages! They are dimensionally stable which means the boards will remain flat and straight with minimal warping or cupping. Cedar playsets are naturally decay and insect resistant without the necessity of using harsh chemical treatments.
Complete
service
We offer free delivery and assembly within the Phoenix area, available delivery and assembly throughout Arizona, and we provide maintenance and service for existing playsets.
Flexible
Financing Available
Play Now
Pay Later
Just ask us how you can make easy payments on your backyard playground equipment purchase, giving your family more financial flexibility (plus lots and lots of fun). Coupons Not Applicable*
"The vice president came and installed my son's playground, he did an amazing job."
The vice president came and installed my son's playground, he did an amazing job. We even asked him to change a couple things and without any questions he did as we asked. So happy with the playground glad we made this purchase. Also big score with the 2 and 10 year old.
Jenny Ramirez
★★★★★
Give Your Children Space To Fly With
Our Playsets
Play at home, play together,
play safe!
Looking for the new centerpiece of your yard? You've come to right place! As a premier Woodplay Playsets dealer in Arizona, All About Play offers the highest quality of playsets and swing sets for your backyard. With financing options, lifetime warranties and a hassle-free delivery services, we will help you find the right choice for you and your family.
Decades of experience
Have piece of mind knowing that the owner of All About Play has 20+ years of experience in the commercial playground industry.
The best playground equipment
Our high-quality playsets and play equipment are made with top-notch materials for sturdy, enduring play!
Unmatched service
and support
Our customers love our "Gold Standard" customer service and we know it because they tell us.
Why We're Arizona's

Preferred Playground

Equipment Dealers
Commitment To Excellence
We provide beautiful, high-quality backyard playgrounds that are safe, and we always do things the right way.
Exceptional Customer Service
We place the needs of our customers above all other considerations, and serve as we would like to be served.
Transparent & Fair Pricing
We are open and honest in our dealings, and we always help customers make the right choice about their playgrounds.
We Treat Everyone With Respect & Kindness
We show up when we say we will, treat your property with care, and respect our customers in every aspect.
3 steps to a backyard blast!
1

Choose Your Playset

Our mission is to provide the best backyard playgrounds at reasonable prices so you and your family can enjoy an oasis of safe, exhilarating adventure.

2

We Deliver and Assemble

All About Play provides free delivery and assembly within the Phoenix metro area, and we can delivery and assemble anywhere in Arizona.

3

Play & Have Fun!

With your playground assembled and ready to go, you, your family, your neighbors, and your friends have a safe new place to play!
Getting your playground

is easier than ever

All About Playgrounds makes it a snap to finance your playground equipment. Click here to learn more about our flexible options!
The All About Play
Mission
---
Play at Home

There is comfort, convenience, and assurance of being in the safety of home. There is also the excitement, adventure and fun that can come from being at our local playground. Our desire is to combine these with an ALL ABOUT PLAY System built specifically for your backyard. Where the fun can last as long as the day and well into the night.

Play Together

Your newly installed ALL ABOUT PLAY playset will be the talk of the town. Family, friends, and neighbors will all want the fun and adventure found in your backyard. Do not be surprised if your children would rather stay home, with their newly found friends, and develop relationships that will last a lifetime.

Play Safe

Safety comes first in everything we do, with no exceptions or wavering. It is the fundamental component when designing a play system for children to enjoy. All About Play will be committed to the highest standards of safety during the planning process of your playground. We believe this approach will ensure enjoyment for generations to come.
"We absolutely love everything about this company and their products."
This is not your standard Costco or Sams play structure, which are still very nice. All About Play uses the best materials to build a very heavy, sturdy, safe play structure. My husband , my 12 year old and I each swung on the swing set (has 3 swings) at the same time and it did not budge! All four of our kids (and neighbor kids) play on this everyday and we are loving the new memories being made. Thank you so much for providing a beautiful, safe and affordable place to play in our yard!
Amanda Barrett
★★★★★
Contact Us Today
Have A Question? All About
Play has answers!